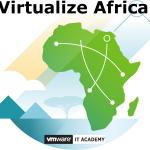 A Keynote Address by
Deji Akomolafe (Staff Solutions Architect, VMware Inc)
to the 7th African Engineering Education Association International Conference
University of Lagos, Akoka – 2019-09-27
The Honorable Vice Chancellor,
The Dean of the School of Engineering,
Distinguished Ladies and Gentlemen,
All protocols observed.
My name is Deji Akomolafe, and I am both awed and intimidated.
As I met and greeted many of you over the past few days, I could not help but feel like a child meeting his or her lifelong idols for the first time. As I shook hands with you, I very much thought about just putting a glove on the hand and never washing it – Ever again!
I thank you very much for giving me this opportunity to stand in front of you today to say a few words about the challenges facing Africa and Africans as the Fourth Industrial Revolution kicks into high gear, and to briefly highlight what my Employer, my Peers and I have been doing about it preparing and positioning Africans to be able to take advantage of the opportunities presented. In this prepared statement, I intend to extend to you an offer of Partnership, one which I strongly believe will assist you in jumpstarting and accelerating the adequate, efficient and effective preparation and positioning of your Institutions and Students for the opportunities, demands and realities of the Modern Economy.
Right now, you may be wondering: Why is he talking about a "Modern Economy" at an Engineering Conference? In response, I urge you to please ask yourself what exactly it is that you do when you teach Engineering or write incisive and insightful Research and Academic papers on the subject-matter of your choice or as you step into the classrooms and teach your students what you enjoy teaching them. What are you doing? You are, in essence, preparing them to become employable and productive members of the society, contributing in their individual ways to the economies of their society. You are talking Economics, even if you are only doing it with Rulers, Pencils, and AutoCAD.
The Modern Economy is one in which Technology is an essential and indispensable component – it is technology-driven, and less agrarian in nature. No, I have not just predicted the demise of Agriculture, I have just cleverly mentioned (in passing, in passing) that even Agriculture, as we used to know it, is now largely technology-dependent. Much like everything else – the phone in your hand is a proof, and the Selfies you have been taking and sharing so far is an evidence of the pervasiveness of technologies in today's economies. Virtualization and Cloud Computing are two of the pillars of the Modern Economies, and the rest of my presentation with focus mostly in these areas.
Permit me to quote the Experts.
"IT spending is undergoing a shift from traditional sources, such as direct server and software license purchases, into public cloud computing. The amount of money IT will spend on cloud services this year is $114 billion, and will grow to $216 billion in the year 2020, according to a report released by Gartner… That means the impact of the shift will amount to a total of $1 trillion over the course of the next five years…That $1 trillion shift "makes cloud computing one of the most disruptive forces of IT spending since the early days of the digital age…" – Gartner (http://ubm.io/2aeAl4m)
"Cloud shift is not just about cloud. As organizations pursue a new IT architecture and operating philosophy, they become prepared for new opportunities in digital business, including next-generation IT solutions such as the Internet of Things…" – Gartner (http://gtnr.it/2onhfPA)
There are strong indications that the African market (especially the Sub Sahara African market, and particularly in South Africa) will play a notable role in the realization of the promised $1 trillion "shift".
"South Africa is expected to have the highest information, technology and communications (ICT) spend across the Middle East, Turkey and Africa (META) regions in 2017… South Africa is expected to lead the way among the regions with a $10.5bn spend in 2017… Trailing behind SA, Saudi Arabia is expected to spend $7.5bn on ICT, with the UAE spending $6.2bn, and Turkey seeing a $5.6bn spend… The IDC… revealed that ICT spending in the Middle East, Turkey and Africa (META) is forecast to top $243bn in 2017." – IDC (http://bit.ly/2oPQogd)
Virtualization and Cloud Computing technology adoption on the African continent is leap years behind everywhere else. Even enterprises which have embraced virtualization and cloud computing are still at the "testing the water" stage of their adoption, unwilling and unable to increase their spend or move their important workloads off of the traditional realm into the next phase – they are, therefore, missing out on the proven benefits derivable from virtualization and cloud computing.
Several factors are responsible for this under-performance, and our research indicate that the following are the major ones:
Maturity – The African market is currently at its infancy
Fear – Vendor support and restrictions; change is scary; failure is expensive
The Chicken-and-Egg Factor – Adopting new technologies and methodologies require upfront investments. Although the outcome of such investments is immediate substantial decrease in OPEX costs accompanied by a significant appreciation in the ROI, which then translates into reduced CAPEX amortized over the investment's lifetime span, many enterprises still consider the upfront costs as COSTS and wonder if such costs are justifiable when they can just continue to "Manage it like that". WE have a "Chicken-and-Egg" situation – a barrier to technology adoption the benefits associated with business practices transformation and optimization.
Lack of Expertise – There is a dearth of relevant knowledge required to facilitate "unsafe projects". This is where I will focus my address henceforth because, in my humble opinion, the absence of expertise in the relevant technology area is your responsibility and fixing it is one of the core life missions we all should be eager, willing and ready to commit to – IF we desire an Africa we can be proud of.
The current state of affairs and challenges in Africa is similar to what obtained in the North American and European markets several years ago. It took a series of concerted efforts and thought leadership for enterprising vendors (such as VMware) AND the willing and able cooperation of various Government entities and Programs to turn things around in those markets, and, as they say, the rest is now history. Virtualization and Cloud computing is now so pervasive in these matured markets that not doing it is considered an anomaly in most enterprises. The bottom line has been very favorable to all vendors alike, and enterprises have derived demonstrable and quantifiable benefits from increased adoption. And, that, Ladies and Gentlemen is why the Leaders of the Global Software and Technology Companies (The Bill Gates, The Mark Zuckerberg, the Pat Gelsinger) keep coming to Africa. They are coming to check out the next frontier of the technological boom and they are surveying the landscape, observing and gauging the fertility, readiness, the current performance of their Companies' current investments and suitability and sensibility of future (or potential) investments in the Continent.
It is not a matter of if. It is a matter of WHEN. And Where.
"Computer engineering giant IBM launched its second research location in Africa… in Braamfontein, Johannesburg on Thursday… Solomon Assef, director of IBM Research Africa, said the company has partnered with the best universities in opening research facilities in other parts of the world… IBM's first research lab in Africa was opened in Kenya in 2013…." – Fin24Tech (http://bit.ly/2nvQrgQ)

"Not so long ago, Big Business saw Africa as a charity case. Much of the investment by multinational corporations across the continent was geared more toward burnishing corporate sustainability programs… Today the picture has changed radically. In the past few years, U.S. technology companies have begun to invest heavily in Africa…"

"Why? They suddenly grasp the huge potential for customer acquisition. Africa has a combined population of over 1 billion people…, boasts seven of the world's 11 fastest-growing economies… It's also… a mobile-first audience, as 99% of internet subscriptions on the continent are via handheld devices…. Africa is increasingly being seen as a "final frontier" for new customers…. Alphabet, Facebook, IBM, and Microsoft have been stepping up their business operations. None more so than Microsoft. The company was one of the first U.S.-based tech giants to spot the continent's potential…" – Fortune Magazine (http://for.tn/1WWazDS)

"American high-tech companies and venture capitalists are increasingly supporting startups across the African continent…. Whether it's the 16 mobile apps in Botswana that Jim Goetz mentioned in his take on Facebook's acquisition of WhatsApp; the launch of IBM's new innovation centers in Lagos and Casablanca; Microsoft's partnership with three incubators in Africa, or the African Development Bank's recent summit on how to engage the private sector more effectively, African entrepreneurship is on investors' minds." – TechCrunch (http://tcrn.ch/2onJIEX)
Is your Institution Ready?
Is your Country Ready?
Are your Students Ready?
Are they? Really?
Pardon me for being the harbinger of sad news. No, you are NOT! Please let me rephrase that: No, WE are not!
Over the past 3 years, my colleagues and I have had the opportunities to visit more than 30 of the largest and most famous Academic Institutions across multiple Countries in Africa. We have had the privilege and honour of sitting down and interacting with many of you and your colleagues. We have met and spoken with hundreds of your Students and Alumni. We have learnt so much from these interactions and what we have learnt and observed have been quite worrisome.
We have some of the greatest thinkers and best minds of Africa in this hallowed room. There is not much I can tell you about the Fourth Industrial Revolution that you probably do not already know, even know better. I am sure that I do not need to preach to you about the urgent necessity for Africa to be adequately prepared to not just benefit from its promises and impact, but to also be in a position to directly participate as a co-equal Partner, if not be the Trailblazer. Because this Industrial Revolution is driven largely by technologies, it is one which is highly dependent on and inseparable from Virtualization and Cloud Computing. Of course, we are starting at a disadvantage, given the relative lack of sustaining infrastructure and enabling policies, incentives and peaceful business climates in many African Countries.
For the Fourth Industrial Revolution to be successful on the scale imagined and unimagined, the train must go through Africa. Because, as we have previously documented, Global businesses have realized and internalized the FACT that Africa offers the most promises – with our size, the demographic mix, comparatively inexpensive labor and infrastructural costs and the relative growth potential – for any serious Global enterprise to maximize its success and profitability. The fact that businesses exist to make money is not a product of prescience and does not beggar explanation. The Fourth Industrial Revolution will have to go through Africa, but will Africans be at the table as Partners, or will we be there as grant recipients – IF we are there at all.
In our various interactions with you, your colleagues, your Students and African Education Policy Decision Makers, we observed that, sadly:
Most of our Academic Institutions are ill-prepared to capitalize on the promises of the Fourth Industrial Revolution
Most are ill-equipped to even begin to prepare for the inevitable
Most of our Academic Institutions graduate Students in disciplines which puts their graduates at considerable disadvantage in the market place of today and for the near future
Even in disciplines relevant to the opportunities of today and the promises of tomorrow, most Institution's academic contents, infrastructure and materials are so severely outdated that the graduating Students – Students who have invested 4, 5 or more years of their lives in education – are left adrift and desolate in the marketplace of employment or entrepreneurship because what they learnt over those years bear little or no resemblance to the CURRENT NEEDS of the employers.
We can go on and on, but I would just be telling you what you already know.
Shall we then just agree that, in order for Africa to develop, in order for the pervading and distressing high rate of Youth unemployment in most African Countries to be arrested, in order for you and your Institutions to remain relevant and competitive, and in order for you to do right by your Students and (yes) your conscience and self-esteem, there is an urgent need for a rethinking and revamping of the instruments and modalities of education, skills and knowledge delivery today? Yes, we can. Because you all know this.
You know all of this, and you know what needs to be done. You know WHEN it needed to be done. Yesterday. You want it to be done. You have tried to get it done. You have begged to be ENABLED to get it done. You are distressed that you can't get it done. Because, sadly, in Africa, most of our Academic Institutions are constrained. By internal and external influences. You are constrained by budget. You are constrained by policy makers who dictate the contents of your syllabus, to which you are required to teach without deviation, even though you know full well that the knowledge you are imparting will not serve the Students you are graduating well in the economies of today. You are constrained by the inadequate and outdated infrastructure. You travel outside of the Continent and you observe the toolsets available to your peers in those other places and you so wish that you could have just a fraction of the resources available to them. Oh, the wonders you will perform.
Let me use this opportunity to doff my hat to you all and to all Africans in general. The fact that, in spite of all challenges and constraints, so many innovations and creative projects and ideas still come out of Africa is a testament to our innate capabilities and our undying enterprising spirits. Actually, it's more than that. It's a Miracle. That an African could study under the lights of the Candle and Wick Lamp and still go on to not just become great in life, but even outperform his/her non-African peers who have better access and privileges is a testament to our capabilities, intelligence and resilience.
So, then, what if…
What if that African were not so disadvantaged on the competitive landscape?
What if he or she is able to compete on an equal footing?
What if YOU are able to help your students become better and more prepared to compete in the new economic realities? What if you can teach them what their foreign peers are being taught today as opposed to teaching them what others have stopped teaching 20 years ago.
In this new Reality, when even the street peddlers and TroTro drivers know a thing or two about "The Cloud", when your gardener has a general idea of what you mean when you mention "Bitcoin" and your drivers and housemaids can reel of "AI, Machine Learning, Cashless Society", etc.,  even when they don't quite understand the meaning, what IF YOU have equal access to the tools, technologies and platforms used by your foreign peers to prepare their Countries and people for the economies of today and tomorrow? What if?
That was all rhetorical. Because, we all know the wonders you have been performing, even with next to nothing presently.
Our research indicated that the associated cost of accessing modern academic contents and resources IS the number one impediment to your ability to deliver on your burning desire to learn and then pass on modern technologies and skillsets to your students. What then can be done about this? How can we correct the imbalance and reposition Africa and Africans to be ready? We have agreed that everyone in this room knows what needs to be done and that we can each come up with ready-to-go, workable solutions. I will bet a Kenyan Shilling that, however varied our individual proposed solutions may be, one common thread weaves them together – Public Private Partnership. African Governments (nay, any Government) needs the support, facilitation and cooperation of private businesses – being they for-profit or purely Charitable in nature – in intellectually and professionally advancing their people, their youths and students, their teachers and professors, their Countries and their Continent not just as a one-time, half-hearted exercise, but as a concerted, focused, sustained and non-negotiable core part of a National Strategic Policy. Because, when you come to think of it, the welfare and success of a Citizenry can only redound favorably to the welfare, progress and stability of the Nation.
By providing the necessary conducive business environment and the sustaining infrastructure, the Government fulfills a huge part of its contract and consideration in a Public-Private-Partnership. Because businesses are in the business of growing and making money, Businesses flock to where there is fertility. With 60% of its population under the age of 25, 15-20 million joining the Workforce annually, and a workforce capacity of 600 million working adults predicted by the year 2030, no Continent is more fertile than Africa. If I haven't said it before, let me say it again – the Private Businesses you require to close the Public-Private-Partnership loop are here already, and more are on their way.
Let me now beg your indulgence and ask that you please permit me to introduce to you the VMware Virtualize Africa Program.
VMware is the Global Leader in the Virtualization and Cloud Computing technologies space. A 10-billion (American Dollars, not Zimbabwean, with no insult intended) technology company based in heart of the Silicon Valley in California, VMware believes that software has the power to unlock new possibilities for people and our planet. Our software forms a digital foundation that powers the applications, services and experiences the world. As the Pioneer of the Virtualization technologies on the x86 Platform, with over 500,000 Enterprise customers, 70,000 Partners and 25,000 employees globally, VMware is one of the Top-5 Software Companies in the world. Lest I be accused of bragging too much, let me hasten to also add that my CEO (Pat Gelsinger) is more awesome than your CEO – after all, my CEO is currently rated the Best CEO by the Experts who know all about the Art of CEO Awesomeness.
As part of its contribution to what we all agree is the proper, scalable, repeatable and logical partnership arrangements to better position Africa and Africans for the careers and opportunities available in the new economies, VMware created the VMware "Virtualize Africa" Program about 3 years ago.
Through this Program, VMware has been actively contributing to the advancement of education and workforce re-skilling of Africans in Africa by providing FREE access to the learning platforms, contents, software and tools required to enable them to be knowledgeable, proficient, certified and (consequently) more employable in the economies of the Fourth Industrial Revolution. We enable Africans to Virtualise Africa, because, for the dreams of being an equal Partner in the promises of the new Industrial Revolution to materialize, Africans must acquire the relevant knowledge and skills and move away from the practice of graduating students who find themselves so out of depth once they step off campus into the treacherous waters of employment or entrepreneurship.
VMware does this by partnering with governments, public institutions, academic institutions, training providers, and NGOs, providing them with:
The necessary training, resources, tools and facilities to educate learners.
Learning materials to use with learners that are aligned to required job skills and certifications
Software licenses to enable hands-on, practical application of learned materials
Employment opportunity and career advancement sourcing and matching
Sponsorship and other facilitations.
Over the past two years, VMware has entered into partnership agreements with the University of Lagos, The University of Ghana, The University of Gondar, Strathmore University, The University of Ilorin, to name just a few. These Partnership arrangements have enabled these Institutions to have unfettered access to all the training materials, labs and resources for which VMware training Partners usually charge thousands of dollars. We have been making these available FOR FREE and with no strings attached. Institutions are at liberty to either use the materials as-is, or extract and embed them into their own curriculum or teach as separate courses or special programs. VMware's goal is to help build a knowledgeable, certified and proficient workforce in the Virtualization and Cloud Computing space right here on the Continent of Africa.
Why? It's quite simple, really. Apart from Virtualize Africa being one of VMware's numerous CSR Programs, we at VMware believe that developing local talents on the Continent is good for business, and for progress. We have customers globally. These customers are always in search of talents to help them implement projects. Parachuting expatriates from outside Africa into Africa to perform task and execute projects that could be better executed by Africans is not only illogical, it also makes no financial sense. Even more, it makes a mockery of the goals of the African Union to create a million net new jobs by the year 2021. Importing expatriates take jobs away from Africans. Pure and Simple. To make matters worse, the absence of local talents discourages international investors from expanding businesses in the locality, further constricting opportunities, and leading to brain drains because qualified Africans are impelled by human survival instincts to look for and move to where the opportunities abound. I'd wager that there is no one in this room who would not like to see this triple-headed nightmare of brain drain, job theft and opportunity flight stop.
This is also why VMware has been partnering with and actively assisting the African Union in building the supporting infrastructure of the Pan African University and the Pan African Virtual eUniversity.
This is why I'm standing in front of you today and asking to please consider being a part of the VMware Virtualize Africa Program and work with us to jointly help you help your students be better equipped and prepared to succeed and thrive in the modern economy. We will help you remove the cost and entry barriers to acquiring knowledge, skill, proficiency and certification in Virtualization and Cloud Computing disciplines and, as part of our commitment to Africa, we will work with you in helping many of your graduates find placement for internship, employment and entrepreneurship, should they not be able to do so on their own at the end of their studies.
I stand before you today and make a commitment that, if you are willing; if you are serious about transforming your teaching practices and updating your curriculum or just want to add new components and courseware to what you already have in place; if you share the burning desire to make your Academic Institutions more relevant in the economies of today and want to be known as the place to go to when in search of qualified and well-rounded talents for their Digital, Virtualization and Cloud Computing needs, VMware will welcome you and work with you. I ask you to please consider a Partnership with VMware and participate in the VMware Virtualize Africa Program.
We want to help you and your students succeed. Because, when we do, our customers succeed. When our customers succeed, VMware is a happy company. When VMware is happy, I (your humble Messenger) am very excited.
I thank you very much for giving me this opportunity. As I step away from here, I wish you lots of success and progress in your deliberations and discussions. I urge that, as you do what you do, please remember that the Revolution and Promises of the Modern Economy NEED manpower. Africa has an abundance of manpower. But, unless adequately trained and prepared, your students are easily replaceable, even as the train passes through the Continent of Africa once again. Our predecessors couldn't make it into the room, much less sit at the table, as the fate of Africa was determined during the previous Revolutions and Partitioning. We cannot afford to repeat the same mistake again this time. Let's prepare our people to not only be present in the room this time, but to actually be at the head of the table.
Thank you very much.
Deji Akomolafe
Staff Solutions Architect and Program Manager
VMware, Inc, Palo Alto, California (USA)
© 2019